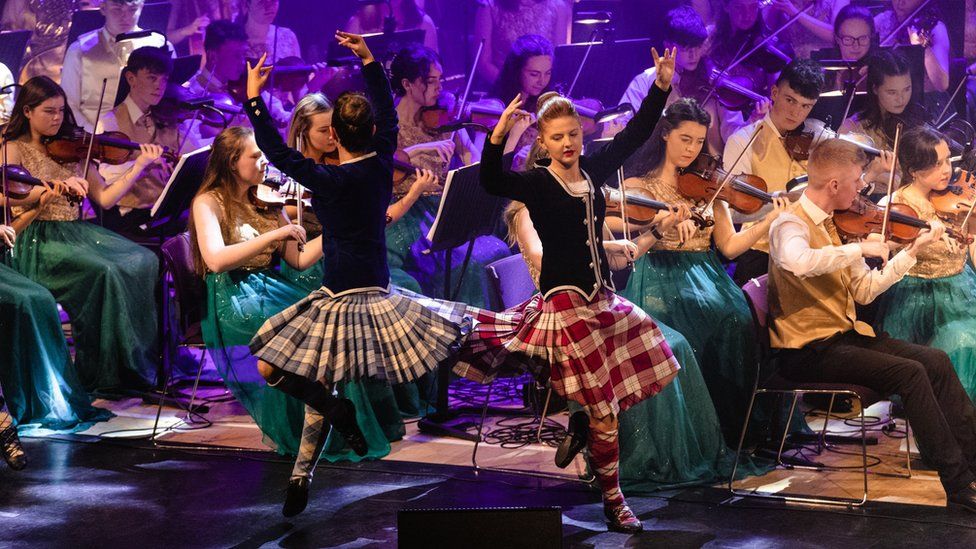 By Eimear Flanagan
BBC News NI
"This orchestra started because of peace in Northern Ireland – it wouldn't have ever existed otherwise."
A generation ago Sharon Treacy-Dunne was so inspired by the emerging peace process that she set herself a mission.
Her aim was to bring young people from Catholic and Protestant backgrounds together, using the power of music.
The result was the Cross-Border Orchestra of Ireland, which has helped thousands of musicians, singers and dancers from both communities showcase their different cultures on a shared stage.
In recent years its young members have staged sell-out shows in arenas across the UK and Ireland.
They have toured US cities and performed for heads of state including President Barack Obama; his then vice-president Joe Biden and the late Queen Elizabeth II.
This week the orchestra returns to New York to play in one of the music industry's most prestigious venues – Carnegie Hall.
"We're using this occasion to mark the 25th anniversary of the Good Friday Agreement, which is the whole reason for our being," its founder told BBC News NI.
"What better place to do it than on the most iconic stage in the world?"
Ms Treacy-Dunne grew up in the Republic of Ireland during the Troubles, in a County Louth village close to the border with Northern Ireland.
In 1994 she was teaching in St Louis secondary school in Dundalk when republican and loyalist paramilitaries announced ceasefires after more than a quarter of a century of violence.
"I was an educator. I was working with young people and it's an influential position to be in, and I just thought I had a responsibility to play my part in peace-building," she recalls.
At her school she found a stash of instruments that had fallen into disrepair and got them fixed to see if they could be used to forge links with schools across the border.
Her first collaboration in 1995 involved just two schools – her own and the Abbey Christian Brothers' Grammar in Newry, County Down.
"Following the success of that and being able to see the great potential in cross-border projects, I started trying to contact Protestant schools in Northern Ireland," she explains.
But in a deeply-divided society the project got off to a shaky start.
"The support from the management in the schools was fantastic, but there was massive opposition among parents, particularly the parents in Northern Ireland. They just did not want it happen," she recalls.
"It used to upset me so much. I used to go to Belfast for meetings to try and convince people that there was no hidden agenda, that this was so genuinely about bringing people together.
"I'd often come away just crying my eyes out, thinking there was no hope, it would never work."
The teacher recalls attending one meeting where parents "were accusing me, very clearly, of trying to destroy Protestant culture and trying to brainwash their children".
"Obviously that was devastating," she says.
"When I got over the trauma of being accused of something like that, I thought: 'Well, that's their perception and we have to change it.'"
In response her orchestra started commissioning music that celebrated both cultures equally.
"We talked to pipe bands and the Ulster Scots Association and anybody we could to see what music was important to them, what music would they like to hear us playing," Ms Treacy-Dunne explains.
The result was a repertoire which fuses instruments from Ulster Scots culture, including bagpipes and Lambeg drums, with Irish traditional instruments such as the uilleann pipes, the harp, the fiddle and bodhrán (drum).
"It did have a huge impact and it did mean all those suspicions and fears just flowed away," says Ms Treacy-Dunne.
"The perception of us from then was that we very clearly and genuinely did want to celebrate both cultures; did want to gently try and remove all these barriers that were there and we really wanted to create a shared future for the young people, for the next generation."
'Lifelong friendships'
The orchestra's shows also began to incorporate performances by both Scottish Highland dancers and Irish dancers, sticking to their own styles but sharing a stage.
The peace initiative brought the orchestra to a world stage, with performances at the White House, Chicago Symphony Hall and London's Royal Albert Hall.
But membership requires "extraordinary commitment".
On weekends when they are not performing its musicians travel from all parts of the island for rehearsals in County Louth.
"There's a gang that come from Limerick, they're up at five o'clock in the morning. They get the bus so far, the train the rest of the journey," Ms Treacy-Dunne says.
After a four-hour rehearsal they begin the 172-mile (277 km) journey home.
"But they love it," their teacher insists, adding some cross-border connections produced lifelong friendships and new experiences.
"They all just get on extremely well, there's no barrier in their minds," she says.
"I know that sometimes they would head up to the Twelfth of July parades, purely just to be there as a cultural thing and to support their friends in Northern Ireland."
Peace Proms
The orchestra's maximum membership is 140 so its founder was soon looking for ways to involve more young people in "spreading the message of peace".
In 2002 they got school choirs involved, initially inviting 200 pupils from Dundalk to sing with the orchestra.
These performances gradually grew into the Peace Proms – an annual tour which has sold out several arenas across the UK and Ireland.
The Peace Proms currently involves 35,000 children from schools all over the island, from diverse backgrounds and abilities.
The choirs sing and dance along to plethora of pop, rock and dance anthems, from Coldplay to the Prodigy, and from Madonna to Harry Styles.
"The brilliant thing about that is in Northern Ireland we have about 6,000 kids who participate, and we have a 50:50 representation for both communities," Ms Treacy-Dunne says.
"That's one of our greatest successes."
Related Topics
original source: Cross-Border Orchestra of Ireland: A fusion of Irish and Ulster Scots culture